All products are added to your cart.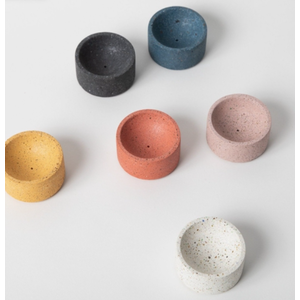 Add to cart
Round, Concrete Incense Holder
Color : Cobalt
pretti.cool Round, Concrete Incense Holder
Description

Cool and chill incense holder! Concrete with cork base.
Cool and chill incense holder! Concrete with cork base.
Related products
Candela Candle
Fine, candles created by Neos Candle Studio. Add pop of color to your home!
Pegasus Candle
Add a touch of regality and mystecism with this Pegasus bust candle. A fine candle made by Neos Candle studio.
Lindsey Besser Coloring Book
Adult coloring books designed by local artist Lindsey Besser!
Choose from The Drunken Coloring book 1 or 2, or the Empowered Woman's coloring book.
Book Club Candle
Curl up with the perfect rainy day read. Notes of warm nutmeg, amber, and sandalwood fill the room as you turn each page.

Top Notes: Orange, Nutmeg
Mid Notes: Cinnamon, Sandalwood
Base Notes: Vanilla, Balsam, Amber


13.75 oz. Typical burn t
Others also bought
Catch All Dish 4"
Keys, thumbtacks, change, you name it!
Anything goes in these catch all dishes. Or use them as a simple but bold statement piece.
Available in 6 colors!
Severn Hanging Pot
Terra cotta Severn Hanging Pots with a chevron design are the perfect accent for a room with plants!
Pick which size you'd like!
Perfectly Ripe Banana
Enjoy the visual of a Perfectly Ripe Banana. Made wait concrete!
The size of a standard banana!