All products are added to your cart.
Space in Place Lotion-Space in Place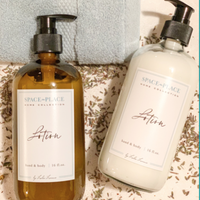 Related products
KNORK Compost Bin Carbon Filter Refill, S/6
Set of 6 . Made of charcoal material, 5mm in thickness. Refresh your space! Absorbs and traps food odor inside the compost bins. Square compatible, works with KNORK Bamboozle composter. Do not rinse.
Bath Soak with Spoon
This indulgent Bath Soak, formulated with organic Lavender and Eucalyptus essential oils, is guaranteed to take your bathing experience to a new level of luxury and utter relaxation.

Locally Made!
Candle
Fresh, tropical candles locally, Space in Place LLC. Inspired by the scents of Brazil.
Hand Sanitizer
Our alcohol-based Hand Sanitizer Gel is infused with jojoba oil, aloe vera and vitamin E to nourish and moisturize your hands.

Locally made by Space in Place LLC.
Others also bought
Hand Soap
Thoughtfully blended, our certified organic Lavender or Lemongrass Hand Soaps are gentle on all skin types.

Locally made by Space in Place LLC.
Perfect Matches
Get the Perfect Match for your Place in Space candle!
Comes with 12-15 matches
Manifest That Shit Candle
The Manifest That Shit candle created by Bungalow 26.