All products are added to your cart.
Kabba Africa Art Handwoven Fiber 12" Bowl, Asstd.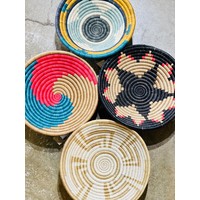 Related products
Hand Loomed Turkish Towels Checkered
Traditional Turkish Bath Towel
Handwoven Fiber 10" Basket Black & Natural
Handwoven Black and Natural Basket
10"
Diamond Pattern
Hand Painted African Textile 46"W x 63"L
Hand Painted African Textiles
Available in 4 Colors
Handwoven Fiber 9.5" Trivet, Asstd.
Get yourself a new, colorful trivet!
Handwoven Assorted Trivets 9.5"
Others also bought
Handwoven Fiber 8" Bowl, Asstd.
Handwoven Fiber Bowls Assorted
8" Bowls
Handwoven Fiber 12" Charger, Asstd.
Handwoven, Assorted 12"
Charger/Trivet